MOCA PDC
Cameron: Songs for the Witch Woman
Sat Oct 11 - Sun Jan 11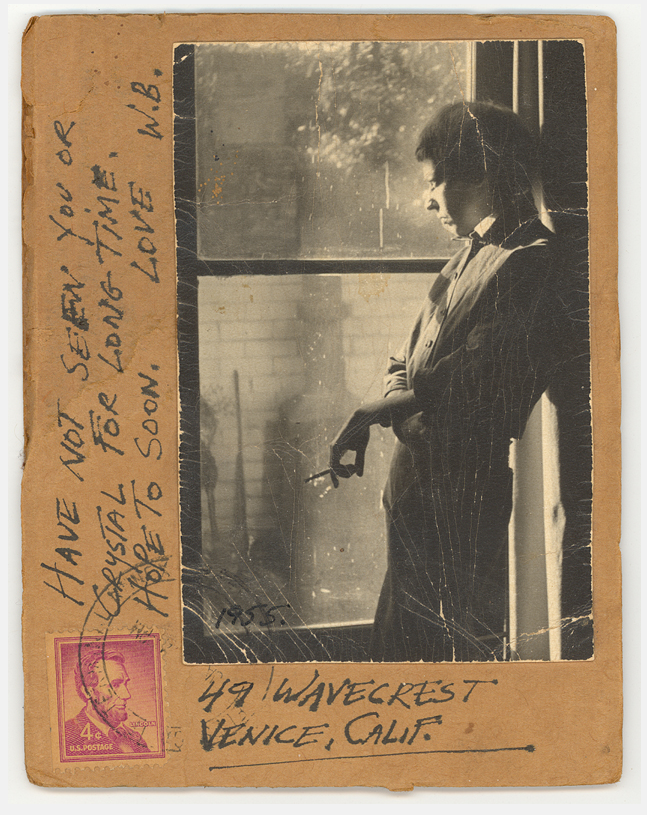 MOCA presents Cameron: Songs for the Witch Woman from October 11, 2014 to January 11, 2015 at MOCA Pacific Design Center. Organized by guest curator Yael Lipschutz, the exhibition will be the largest survey of Cameron's work since 1989 and will include approximately 91 artworks and ephemeral artifacts. Alma Ruiz, Senior Curator at MOCA is the coordinating curator.
Cameron: Songs for the Witch Woman explores Cameron's role as a pivotal figure in the development of postwar Los Angeles art. "A seminal figure within LA's mid-century counterculture, Cameron's work contains echoes of an important time that is also our time. A younger generation will be fascinated by her unique melding of surrealism and mysticism, and by her commitment to live her life as art," explains guest curator Lipschutz.
The exhibition will include pieces formerly thought to be lost, ranging from early paintings, to drawings, sketchbooks, and poetry from her late years, as well as ephemera and correspondence with individuals such as her husband, Jack Parsons (1914-1952), rocket pioneer and a founder of the Jet Propulsion Laboratory and renowned mythologist Joseph Campbell. The exhibition brings to life the recently published book titled Songs for the Witch Woman. The publication, produced by Fulgur Esoterica, features a series of poems written by Parsons alongside illustrations drawn by Cameron that echo the intimate themes of their turbulent love story.
"The Cameron Parsons Foundation has been instrumental in the realization of Cameron's wish for a museum exhibition that presents her work in depth, and MOCA is making this dream come true" states Scott Hobbs, director of the Foundation. "The timing of Cameron's exhibition is particularly serendipitous because October 2, 2014, marks the centennial of the birth of Jack Parsons, her mentor and constant inspiration."
Born in Belle Plaine, Iowa, Cameron (Marjorie Cameron Parsons Kimmel) (1922-1995) emerged as an artist, performer, poet, and occult practitioner in Los Angeles, uniquely bridging the city's flourishing spiritual and art worlds at mid-century. She arrived in Los Angeles by way of the Second World War, where she drew maps and labored in a photographic unit for the U.S. Navy. A visionary painter and unparalleled draftsman, she is best known for her paintings and drawings of human and fantastical figures and had a long career, unrecognized until now, spending her last years in West Hollywood.
"A key figure navigating between disciplines and traditions of poetry, cinema, visual arts, and spirituality; Cameron has opened many doors that continue to intrigue and inspire generations of artists. Her hallucinated vision, at the edge of surrealism and psychedelia embodies an aspect of modernity that deeply doubts and defies cartesian logic at a moment in history when these values have shown their own limitations. Her work demonstrates that the space in the mind is without limit," states MOCA Director Philippe Vergne.
Cameron's frenetic, delicate renderings of mythological figures reveal a singular attention to line and the idea of spiritual metamorphosis, evoking the surrealism and symbolism of the French poets. She is closely associated with Beat artists such as Wallace Berman, George Herms, and Dennis Hopper, filmmakers Kenneth Anger and Curtis Harrington, and occultist, Aleister Crowley. She was a mentor to younger artists and poets such as David Meltzer and Aya (Tarlow).
Her artwork appeared in the first issue of Berman's celebrated journal Semina (1955-64) and has also been included in group exhibitions at the Whitney Museum of American Art in New York, the J. Paul Getty Museum in Los Angeles, the Martin-Gropius Bau in Berlin, the Pasadena Museum of California Art, the Centre Pompidou in Paris, and the Los Angeles Municipal Art Gallery in 1989.
In conjunction with the exhibition, the Cameron Parsons Foundation is producing an 88 page catalogue with approximately 75 full-color illustrations. The main essay will be written by Yael Lipschutz and the foreword by MOCA Director, Philippe Vergne.
Generous support for MOCA Pacific Design Center is provided by Charles S. Cohen. Additional support provided by the Cameron Parsons Foundation, Inc.